GROSSE POINTE SHORES — An online petition by Progress Michigan, urging Grosse Pointe Shores Councilman Matt Seely to resign, has accumulated 736 signatures.
The petition references posts Seely made Sept.17 in a Facebook group called "Michigan Trump Republicans." The posts feature jokes about women and sexual assault.
Progress Michigan announced in a press release on Sept. 25 that the number of signatures on the petition is more than twice the amount of votes Seely received for his election.
"This petition shows that Michiganders expect better than this from their public officials," said Lonnie Scott, executive director of Progress Michigan. "We live in a culture that protects abusers while blaming victims and that won't change unless people are willing to stand up to men like Matt Seely, who make light of sexual assault. Survivors deserve to be believed and supported, not made the subject of cruel jokes in Facebook groups for political purposes."
Progress Michigan first called for Seely's resignation on Sept. 18 after the posts were found, and also called Republican officials previously photographed with him to denounce his behavior in another release on Sept. 19. The Sept. 25 release stated none of the Republican officials responded to Progress Michigan.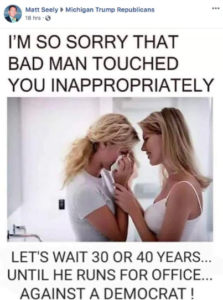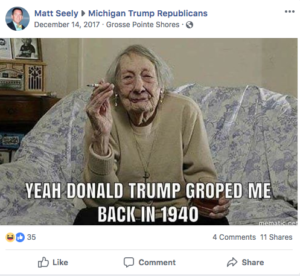 "This type of behavior cannot be tolerated by a public official," Scott said. "It's disgusting, dehumanizing and it makes light of sexual assault and rape. This meme is an attack on survivors. Matthew Seely needs to step down immediately and publicly apologize for making jokes about such a serious crime. Sexual violence is a real problem in this country and we need to have public officials who recognize that, not make fun of it for political purposes. It's disturbing that there are people and online communities who tolerate this type of behavior, but we cannot allow it to be present in our city governments."
Seely told the Detroit News he does not intend to resign. 
"Public officials have an obligation to lead by example," Scott said. "In posting these memes and refusing to accept accountability for his actions, Matt Seely has let down the people who elected him. The right thing for him to do is resign and apologize to all victims of sexual assault – but if he refuses the City Council and Republican Party must take action, because standing still is not an option. Progress Michigan and the hundreds of the people who have signed our petition will continue to hold Seely and those who support him accountable."