WASHINGTON, DC – Recently elected U.S. Rep. Rashida Tlaib (D-Detroit) responded to racial attacks from Annabelle Lima-Taub on Wednesday, at a time when the Florida city commissioner faced calls for her resignation online.
Lima-Taub signed an online petition last week calling for Tlaib's removal, according to a photo of her Facebook post published by The Sun Sentinel.
"Proudly signed," she wrote. "A Hamas loving anti-Semite has NO place in government! She is a danger and would not put it past her to become a martyr and blow up Capitol Hill."
On Wednesday, Tlaib responded.
"I don't think people realize how divisive it can be and how it can actually lead to violence," Tlaib said according to WXYZ.
Tlaib added that she's now focusing on the needs of her district and ending the government shutdown, but also drew parallels between the comment and the values of President Trump and his supporters.
"This is a president, and many people who support him, who have Un-American values and don't understand Muslims and an Arab American woman of color belongs in government like anybody else," she said.
Tlaib also fired back at right wing websites and commentators with a tweet on Tuesday, Jan. 15.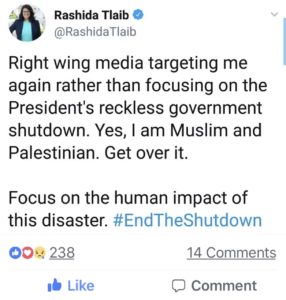 She added that she's faced many personal attacks over the years for her outspoken views, but credits her supporters for giving her the strength to overcome them.
"I am a person that a lot of them have my number," she said. "They check on me. Having that humanity and not being disconnected from people back home will keep me stronger."