DEARBORN— The Michigan Muslim Community Council launched its annual Ramadan Fight Against Hunger campaign on May 26. The organization is planning volunteer events and food drives at several locations across southeast Michigan through the end of Ramadan.
Dr. Muzammil Ahmad, a Beaumont-affiliated urologist and MMCC board member, told The Arab American News about the importance of keeping Michigan Muslims engaged and active in charitable missions, volunteering and civic engagement.
"Our main efforts over the last years has been to improve civic engagement in the Michigan Muslim community," he said. "We aim to organize our members to stay active in uplifting others in the state. This applies to people in need that are Muslim or otherwise."
The MMCC's other major volunteering and engagement events brought relief to the Flint community during its water crisis and to federal employees during this year's government shutdown. It also organizes the Michigan Muslim Capitol Day, which brings Muslims and elected official together in Lansing.
Ahmad pointed out the importance of volunteer work during the holy month of Ramadan.
"Ramadan is observed by most of the Muslim community as one of the major festivities and holidays of the year," he said. "One of the things the month is supposed to signify is self-sacrifice and putting spiritual needs over and above physical needs.
"Another important facet of Ramadan is empathizing with people who are less fortunate and go hungry not out of choice but because they don't have access to food. Having a positive impact on the community around us is important to our faith. Our Ramadan events let us put our faith into action."
Ahmad added that Ramadan is an opportune time for charitable work as Muslims are acutely aware of their religious obligations to themselves and their neighbors during the month.
"We offer opportunities to people to participate in food drives while documenting all the great work our community members do to feed the hungry," he said. "This is important because there are several organizations in addition to MMCC from the Muslim community who have done wonderful work for the last few decades. This work often goes unnoticed and MMCC has taken this opportunity to bring to light their commitment to uplifting the state of Michigan."
For the MMCC, documenting these activities can help change misconceptions of Muslims as an insular community without stake in what goes on in the state. Food drives and other civic engagement activities help bring Muslim contributions in the region to light.
"We run several large food drives during the Ramadan Fight Against Hunger, which is a week-long campaign," he said. "We pack and distribute over 110,000 pounds of food to people throughout southeast Michigan. This includes people of all faith that turn to food pantries for aid. We achieve this by setting up drives in mosques, food pantries like Gleaners Community Food Bank and other community service organizations."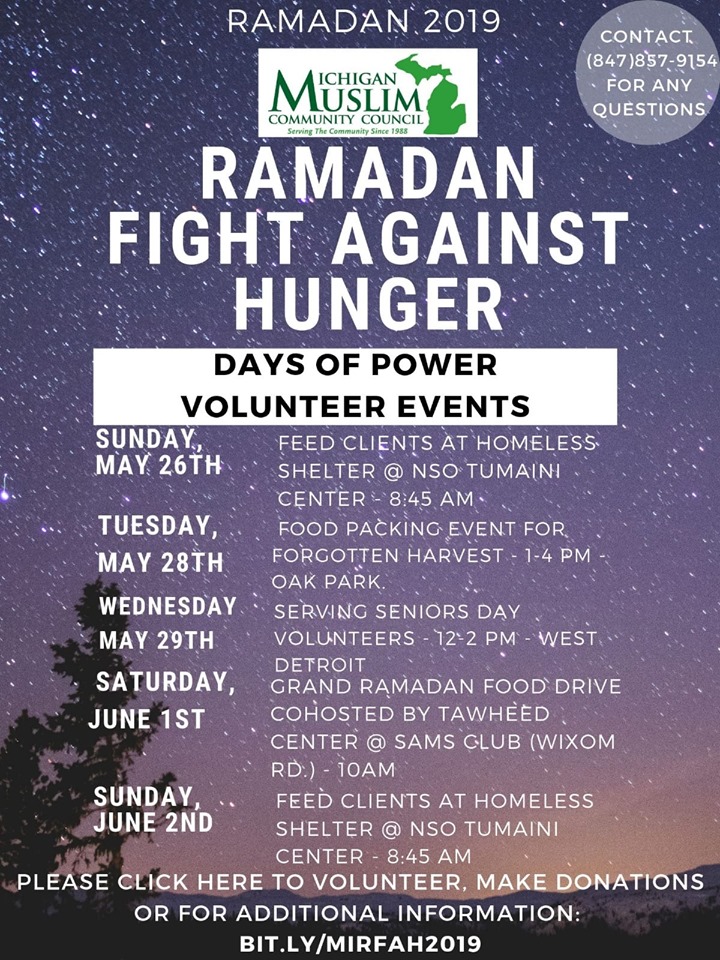 MMCC volunteers also cook food on a weekly basis outside of and in addition to the Ramadan food drives and distribute it to local soup kitchens and pantries in Detroit. It also participates in soup kitchens set up by Neighborhood Service Organization, which runs several social service centers in Detroit.
Their largest food drive for Ramadan will be on June 1. The event will be co-hosted by the Tahweed Center and will bring several hundred volunteers and six trucks of food to the Sam's Club on Wixom road in Novi.
Sam's Club will the use of part of its warehouse for food storage for the event. Half to three quarters of the food distributed by MMCC during Ramadan will be on this day.
"One of MMCC's goals is to centralize and coordinate separate food campaigns, which we get to achieve by providing support to other Muslim organizations during Ramadan," Ahmad said. "Food drives give Muslims from different areas of Michigan a chance to come together and share in the spirit of community through giving."
Those interested in volunteering or donating to the remaining Ramadan events should visit bit.ly/mirfah2019.