HAMTRAMCK – In a dramatic turn, four Muslim candidates are now among six of the top vote-getters in the 2019 Hamtramck City Council elections.
Results came in from Wayne County late Tuesday night, with in-person counts reported earlier in the night followed by absentee totals.
There was a total of 2,136 votes cast, 988 of which were by absentee ballot. The total number of votes represented only 17 percent of the city's approximately 12,000 registered voters.
Incumbent Saad Almasmari received 605 votes, 11.70 percent of the overall votes. Yemeni immigrant Mohammed Alsomiri was the big winner of the nights, with 727 votes clocked at 14.06 percent.
Bengali candidates Nayeem Leon Choudhury (680 votes at 13.15 percent) and former Councilman Mohammed Hassan (595 votes at 11.51 percent) took impressive numbers, undoubtedly from Hamtramck's thriving Bengali population.
Carrie Beth Lasley (612 votes at 11.84 percent) and Robert Zwolak (588 votes at 11.37 percent) also fared well.
Justin Jessop, a long time Hamtramck resident who speaks Bengali and could be spotted campaigning in his colorful rickshaw, got 454 votes at 8.78 percent.
The other two incumbents, Abu Musa and Mayor Pro Tem Anam Miah, lost their seats unexpectedly, with Musa inching behind other candidates at 10.64 percent of the vote.
Early voting results seemed to favor Musa, with absentee votes making a significant difference and deciding the primary race.
The Arab American News reached out to some of the night's big winners to get their reactions.
Almasmari said he was happy with the results, though he found it remarkable that his colleagues on City Council lost with significant margins to newcomers.
"Yesterday was a great day," he said over the phone on Wednesday. "What was not normal that some candidates who made it won by absentee."
He added that no matter what the result of this or the November general election, he was happy that residents were willing to exercise their political power and come out and vote.
Lasley has been a vocal critic of the Hamtramck City Council in the past and has raised objections over candidates failing to meet certain City Charter provisions.
She had been actively campaigning across all ethnic voting blocks, and though happy with the results, said she wants to improve her standing in the Yemeni community in the sixth and seventh precincts.
"I'm a little disappointed in my number in (these) precincts, where the Yemeni community is very populous," she said on Wednesday. "I'm going to give some special attention to that area going forward."
She is currently getting help translating her campaign brochures in up to six different languages.
Her brochures point to Hamtramck's deficient spending and how the city is getting close to digging into its bank balance after building up a surplus in the years following emergency management of the city.
"We have recuperated a significant amount of money in that time," she said. "Since (City Manager) Katrina Powell's exit we have been spending that money down. We still have money in the bank, but if we continue to spend it in excess of what we're bringing in, we won't have it very long."
She proposes revisiting city contracts for services to locate where the city could recover dollars.
Alsomiri, the day's top vote-getter, is a business owner and developer who has been in active renovating a large, abandoned building on one of the main thoroughfares in the city.
This is his second time running for City Council. He won in the primary two years ago, but lost in the general election.
"I like to work for the city and help its population in any way I can," he said. "I want to help people buy houses and open businesses here."
He likened City Council work to volunteering, with no real financial incentive based on a moderate stipends. However, he added that Council members can have real impacts on local economies by attracting business.
"We need more, new business," he said. "Different businesses that can attract people to the city."
He also said his campaign efforts have been geared towards crossing racial and ethnic lines in the city and that he has tried to reach out to all residents, no matter what their final intentions for Election Day may be.
The six candidates will now go on to compete in the November 5 general elections. The top three vote-getters in that election will serve four-year terms, starting next January.
ELECTION DAY
A humid and partially rainy Election Day in the bustling two square mile city saw low voter turnout, compared to other recent election years.
The dismal turnout should not be surprising, given that the Council race was the only item on the ballot.
By late evening, voters began to trickle into the four polling locations. The Hamtramck High School building contained three precinct locations, and candidates and their teams gathered outside in the last few hours of voting to engage with residents.
Some were met with slight hostility, as family members and friends of Muslim candidates handed out pamphlets and business cards to people getting out of their cars or walking to the school to vote.
"I know how to vote," an older White resident could be heard scolding a young supporter of Almasmari who offered her a pamphlet.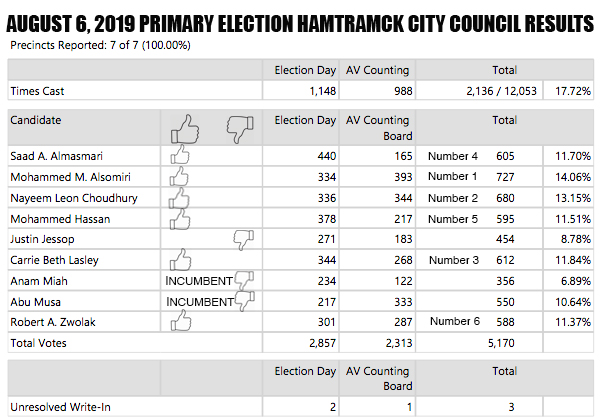 Election volunteers tried to maintain order in and around the polling location and often had to remind candidates and their teams that they could not campaign near voting booths.
A Yemeni resident, who owns a hugely successful grocery store in the city, said he had high hopes that Muslims will continue to be widely represented in Hamtramck with this year's election.
Incumbent Miah, who would fail to secure his seat later on that night, stood outside the high school with numerous well-wishers and told The Arab American News that he hoped to continue his contributions to the city.
"I plan on continuing the infrastructure development and road and alley repair that is already well on its way," he said. "I would hate to see that become a back-burner project, going forward. Infrastructure improvement has been a project 30 to 40 years in the making."
Hassan, who would go on to receive the second lowest number of votes among the top six, was confident in his extraordinary plan to eliminate the city's 1 percent income tax and offered a surprising solution to the ensuing loss in revenue.
"I propose we outsource our fire department," he said. "Neighboring fire departments have offered their services at lower costs and have shown better response times. Elimination of the income tax is entirely possible for the city."
A moment later, he climbed on to the back of Jessop's rickshaw to take a leisurely ride along Hamtramck's charming, bungalow lined streets — a show of companionship and neighborly love that cut through the evening's otherwise tense atmosphere.