DEARBORN – Recent unofficial reports of drug overdoses among Arab Americans in Dearborn have raised concerns over the prevalence of substance abuse and addiction.
Opioid addiction has been recognized as a public health crisis in Michigan and the Arab American community has been directly affected for some time.
According to preliminary 2018 data from the Wayne County Medical Examiner's Office, nine Arab Americans died of drug overdoses in Wayne County last year.
This was a 200 percent increase from 2017. The synthetic opioid Fentanyl was the drug most commonly found in their system.
To give a sense of the scope of the problem, specialists at ACCESS's Community Health and Research Center provided valuable information this week about the risks associated with opioid use.
ACCESS is also holding a free training on how to administer Naloxone – commonly known as Narcan — on August 28 at its medical center.
The training is open to the general public. Participants will receive a free Naloxone kit upon completion.
The center's Community Engagement Manager Mona Abdallah-Hijazi and Public Health Coordinator Corey Beckwith told The Arab American News that those suffering from addiction to opioids and other substances are not alone and that there are several preventative and therapeutic options available to those living in the Metro Detroit area.
They also warned of the prevalence of Fentanyl, which is often used to cut street drugs, and the harmful stigma associated with substance abuse among the Arab American community at arge.
"Progress has been made by the state of Michigan to control how much prescription opioids are prescribed," Hijazi said. "What we have seen, however, is that people have turned to the cheaper and often more accessible alternative, heroin."
"In the past few years, more and more heroin is being cut with Fentanyl, which is an extremely strong synthetic opioid," Beckwith added. "It's available as a prescription, but for the most part what's showing up is Fentanyl that is produced overseas and trafficked in to the U.S."
This surge in Fentanyl has caused a spike in often fatal overdoses. Many aren't aware that the drugs they purchase on the street are laced with the substance and get even more powerful results from its usage.
Fentanyl has also created a logistical problem for law enforcement and drug prevention service providers as they try to understand new drug supply routes and usage behavior, Hijazi said.
"A small amount of Fentanyl will increase the potency of a dose of heroin," Beckwith said. "In a lot of cases, people are looking for the strongest drug possible."
According to the National Institute on Drug Abuse, Michigan experienced an increase in opioid deaths in cases involving synthetic opioids (mainly fentanyl), from 72 deaths in 2012 to 1,368 in 2017.
"We focus on prevention because communities are often unaware of the need for solutions to a problem until something tragic occurs," Hijazi said. "Our center works directly with schools to educate students and parents about substance abuse. We have different information presentations catered to children at different age levels."
Vaping and tobacco use has also become a public health problem in recent years, with younger Arab Americans turning to the new technology because of its accessibility and portability.
ACCESS currently has a youth group at Dearborn High School, with more planned for Fordson and Star Academy in Dearborn Heights, that provides positive messages and mentoring towards drug free school environments.
It also provides outpatient substance abuse therapists and peer coaches who have experienced addiction and recovery first hand.
Those who have been in detox for seven days can also obtain Vivitrol, a drug that inhibits the effects of opioids and can aid in preventing relapse. The medicine is paired with substance abuse therapy.
An ACCESS substance abuse advocate partners with Dearborn Police officers to home visits on people who have a history of overdosing.
The program put 35 people through treatment last year alone.
Next week's Narcan training comes in partnership with the Detroit Wayne Mental Health Authority.
"Narcan is a medication that temporarily reverses the effects of an opioid," Beckwith said. "The form that we use is a nasal spray. The spray absorbs through the mucus membrane and when it gets to the brain it essentially knocks the opioid off of its receptor for a period of 30 to 90 minutes."
A person who is overdosing on an opioid can be temporarily revived before they are rushed to a hospital. In emergency situations, the medicine can be very effective in saving lives.
"The more people know how to use Narcan, the more opportunities there are for lives to be saved," Beckwith added.
Though the medicine is prescribed, Michigan allows its purchase at many pharmacies. Individuals do not need licensing or certification to be able to administer the medicine to themselves or someone else.
Moreover, Michigan has a Good Samaritan Law that stipulates that if someone attempts to revive a person with Narcan, they will not be held liable for any damages since they are acting in good faith to save a life.
"The Good Samaritan Law is something a lot of people don't know about," Hijazi said.
She also emphasized that stigmas related to drugs in the Arab American community often combine with fear of law enforcement to create the misperception that they will be in trouble if found at the scene of an overdose.
Narcan is safe and doesn't harm someone that is given the medicine but is not overdosing.
The two substance abuse specialists strongly urge the community to join the training next week.
"We want people to know that they are not alone if they or someone they love is struggling with addiction," Hijazi said.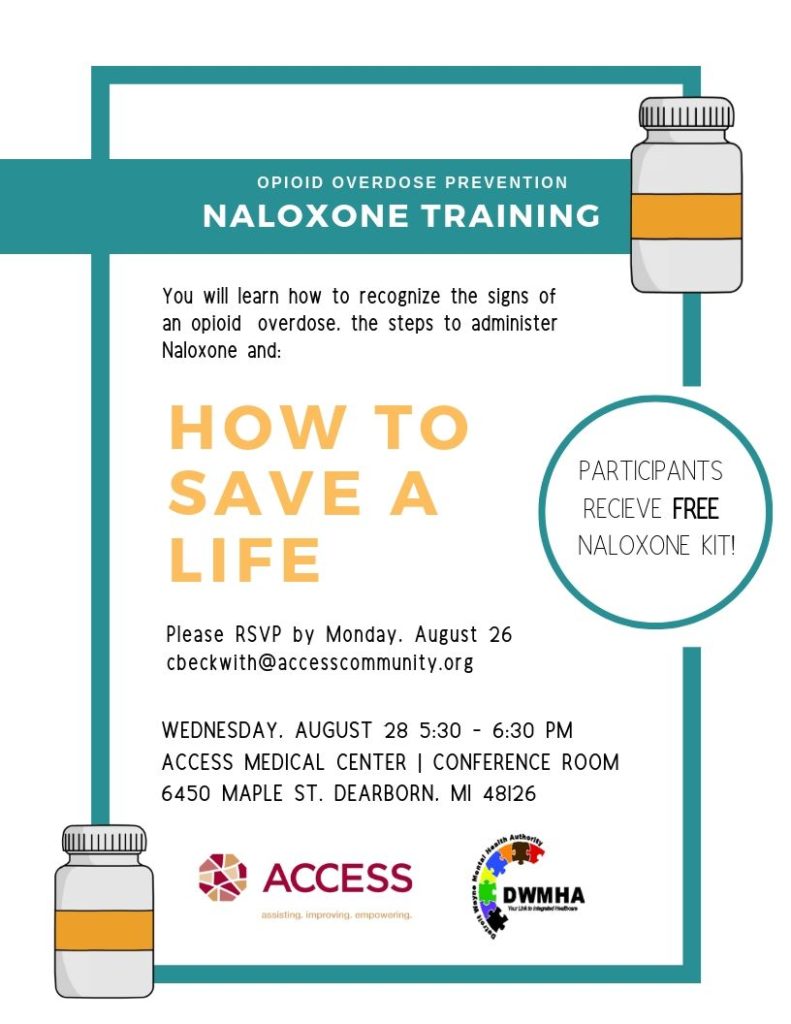 ACCESS Mental Health services can be reached at 313-945-8138
Those seeking immediate help and treatment for substance abuse and addiction should call Detroit Wayne Mental Health Authority at 800-241-4949