BROOMFIELD HILLS – This weekend, Emgage, an influential Muslim advocacy organization with national headquarters in Washington, D.C, and five state chapters (Florida, Michigan, Texas, Virginia, Pennsylvania), will present "The Impacts of the Muslim Vote."
The event will feature as special guest speaker U.S. Rep. Rashida Tlaib (D-Detroit) and is part of Million Muslim Votes, a campaign seeking to maximize voter registration among Muslim American communities.
"Congresswoman Tlaib has worked tirelessly to ensure that Muslim voices are represented in American policymaking spaces," said Nada Al-Hanooti, Michigan executive director at Emgage. "It is with great honor that Emgage hosts her as she discusses the importance of Muslim voter participation, a central goal of the organization's mission.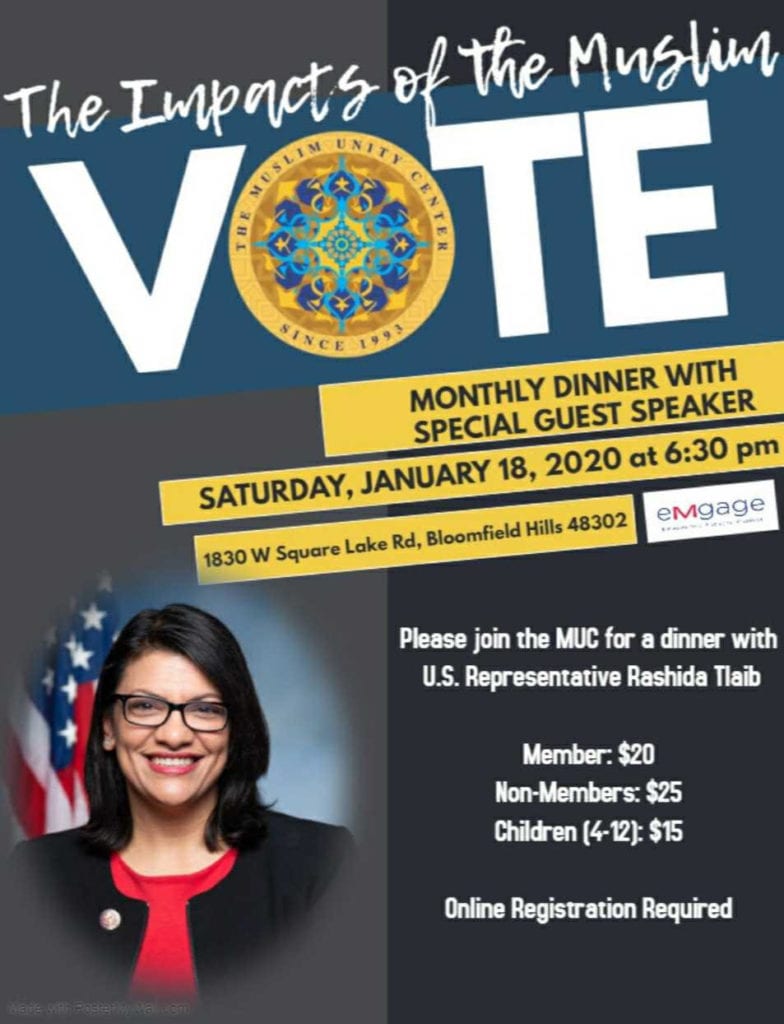 "As we approach the 2020 presidential primary elections, it is crucial that we get our communities involved. Emgage is proud to partner with the Muslim Unity Center and Congresswomen Rashida Tlaib to educate and empower our Muslim community to participate in the 2020 elections."
The event will occur at the Muslim Unity Center in Bloomfield Hills on Saturday, Jan. 18 at 6:30 p.m. Please note that online registration is required, and may be completed here.
The event is framed in the context of the upcoming elections, in which the Democratic party is seeking both political control and continued support from the ethnic and minority populations in the country. A recent study by Emgage shows that Muslim voter turnout is on the rise, with four key swing states jumping 25 percentage points from the 2014 midterm elections. The general population voted 14 points higher than they did in 2014 in the same four states.
Emgage officials said they hope the study's findings show that politicians in both parties can benefit from  this increased engagement by reaching out to Muslim Americans and engaging them on issues of particular importance to them. They also determined that in 2018, there were close to 100 Muslim candidates for public office at all levels of government, the most at any point since at least 2001.