DEARBORN — Local civic, Arab and Muslim American leaders gathered at The Arab American News office here on Wednesday, February 26, to discuss issues of importance to the community as part of a meeting that included Michael Fasullo, state coordinator for Bernie Sanders' 2020 campaign team and Alia Phillips, the campaign's 2020 field director.
The two new Sanders campaign staffers were announced this past Wednesday, along with the opening of five field offices in Ann Arbor, Dearborn, Detroit, Flint and Grand Rapids, as the Sanders campaign gears up for Michigan's March 10 primary election.
Fasullo and Phillips listened to concerns from community members and leaders, including Wayne County Commissioner Sam Baydoun, Dearborn City Council President Pro Tem Mike Sareini, former Dearborn judge Sam Salamey, The Arab American News Publisher Osama Siblani and others.
Among the various topics discussed, the constant specter of the "terror watch list" that has ensnared countless thousands of innocent local Arab Americans was deemed to be one of the most important issues facing the community.
Many Arab and Muslim Americans are detained for several hours each time they attempt to cross the border despite no evidence or past history of wrongdoing.
"There's got to be a pathway off the list; once you get on the train you just can't get off," said Assad Turfe, the chief of staff for Wayne County's executive office, adding that the only way to do so currently is to sue the federal government.
Siblani mentioned an incident involving a young man from the community who was flying to Lebanon and was detained and peppered with a barrage of questions involving his political allegiances, what he planned to do with the $2,000 he was bringing overseas with him and more.
Siblani called the watch list and constant profiling an even bigger concern than foreign policy, which was also discussed at the meeting, along with whether or not Sanders has the best chance to defeat President Trump in November.
Amer Zahr, a law professor at the University of Detroit Mercy and comedian who is also a national surrogate for the Sanders campaign, said Sanders has proven himself in the area of foreign policy, having gathered an immense amount of political support to push the War Powers Resolution through both the House and the Senate in April of last year.
The resolution would have ended U.S. support for the Saudi Arabia-led war in Yemen, but Trump vetoed it.
It was also noted that Sanders has consistently spoken out against Israeli brutality and oppression in Palestine, and taken courageous, unpopular stances to support Palestinian freedom.
On the issue of diversity, Zahr said that Sanders also stands out, having previously made a pledge that his cabinet would, "look like America."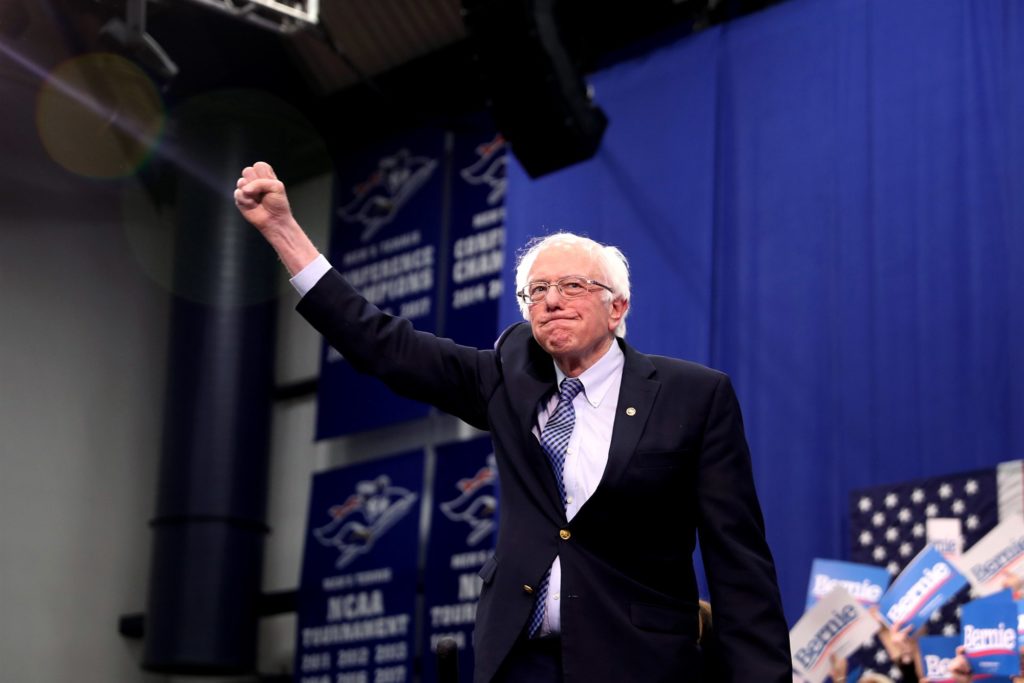 Sanders: The favorite in Michigan?
According to a Real Clear Politics average of general election polls, Sanders has opened a 50.5 percent to 43.8 percent lead over Trump in Michigan.
The Sanders campaign feels confident it will win the March 10 Michigan primary. Sanders also won Michigan in the 2016 campaign.
"With the operation we're building in Michigan, Bernie Sanders will not only win the primary, but he will also be the only candidate with the energy and enthusiasm to flip this state back and defeat Donald Trump," Fasullo said, following his hiring earlier this month.
"We have thousands of volunteers across the state and our staff is tirelessly working to expand this multi-ethnic, multi-generational, people-powered movement."
At the meeting, Fasullo, who added that he is a longtime supporter of the Boycott, Divestment and Sanctions (BDS) movement for Palestinian rights, acknowledged community leaders' concerns regarding both foreign policy and the terror watch list, among other issues.
"These are really important issues and that's why I'm here on this campaign," he said. "One of the main reasons is because it's not about Bernie Sanders; it's about all of us."
Fasullo said he believes that Sanders' ability to bring in new voters and to unite and galvanize others is what will ultimately help him win the election.
"Bernie brings in new people; people who have never voted before," he said. "Look at what happened in Nevada…This is a candidate who poll after poll after poll beats Donald Trump."
Four local officials endorse Sanders for president
Four local elected officials endorsed Sen. Bernie Sanders for president, reflecting the broad coalition of support Sanders is building on the ground across Michigan.
State Representative (District 4) Isaac Robinson of Detroit, State Representative (District 53) Yousef Rabhi of Ann Arbor, Council Member (Ward 5) Ali Ramlawi of Ann Arbor and Council Member Dave Abdallah of Dearborn Heights announced on February 27 their support for Sanders in a statement released by Bernie Sanders campaign.
In their endorsements, the elected officials cited Sanders' record on social, economic and racial justice, including on issues like affordable housing, mass transit, universal health care, education, immigration, environmental justice and combating climate change.
Last week, the Bernie 2020 Michigan team opened five offices across Michigan, including an office in Dearborn.
"Real change comes from the bottom up," said Bernie 2020 Michigan State Coordinator Michael Fasullo. "That is why we need progressive leaders who stand with the people at every level, in every state. And that is why our team is proud to have the support of these dedicated Michigan leaders who fight tirelessly for their communities everyday."