NORTHVILLE— Dr. Ghulam Qadir has announced his run for the open seventh district seat in the Michigan State senate for 2018; locals are well-aware of Qadir as he knocked on nearly 10,000 doors during his run for Northville Board of Trustee last year.
Qadir, a Democrat, has lived in Michigan since 1978 and practices psychiatry.
He served as the chief psychiatrist at the Oakwood Health Care System for 14 years.
Qadir said he's been interested in politics for a long time. He was involved in the politics of the hospital, and eventually decided that he wanted to run for a local position that would allow him to serve the community in which he lives.
Though he failed to win a seat on the board, he did gain support through his grassroots campaigning.
Qadir said that some of the people he encountered while going door to door last year told him point blank that they didn't want to talk to him or vote for him. In one instance, a Republican working in his yard told him he'd be voting for another candidate, but when Qadir encountered him again after the election, he said he'd changed his mind and voted for him after all.
The man said he realized Qadir was concerned about the same issues.
Qadir said others had told him similar things.
"I want to give back to the community that has given me so much," he said.
During Qadir's campaign, he rallied support to halt the expansion of a Northville landfill, helped to redesign development of a part of Northville at Beck and Five Mile Roads, helped prevent the Toni Morrison book "The Bluest Eye" from being banned from the Northville High School advanced placement course and helped stop an unpopular residential development from taking place at Ridge and Six Mile Roads.
This year, Qadir decided to run for state senate because he is passionate about a number of issues he feels concern voters.
He considers education a particularly important issue.
"I am what I am because of education," Qadir said. "Education has changed my life and it has changed my family's life."
He said his home village in Pakistan had no schools when he was growing up. By continuing on to higher education, he set a model for his village, and now the area has become well-educated.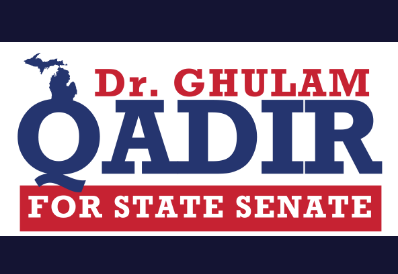 He also considers health and healthcare important issues.
"In my assessment, it's an issue which is important to everyone," Qadir said. "If you don't have health, you don't have much."
Qadir said he's spent most of his life studying and practicing psychiatry and that he believes mental health is a neglected area.
"Twenty to 25 percent of the population suffers from mental illness of substance abuse," Qadir said. "And no one is really paying attention to that."
He also said the field is highly stigmatized and that this must end so people can receive the treatment and preventative care that they need.
"Maybe have a course from elementary school on, because long-term illnesses should be recognized early on," Qadir said.
Qadir said some people don't tell their primary care doctors about the mental health issues they face and end up with problems that could have been prevented or managed if diagnosed sooner.
Qadir is currently the CEO of Apex Behavioral Health-Dearborn PLLC, a multi-disciplinary behavioral health group where he employs 25 professionals.
He was also vice chairman of the state's Controlled Substances Advisory Commission, which Gov. Snyder replaced with the Michigan Prescription Drug and Opioid Abuse Commission last year.
He's been recognized for his community service on numerous occasions. Among other honors, he received the Distinguished Life Fellowship by the American Psychiatric Association.
Infrastructure is another issue of concern.
"Any country which is developed has good infrastructure," Qadir said. "Our infrastructure is not where it should be."
He said he believes that through better roads people will enjoy safer, improved and a more reliable infrastructure.
He said places in Pakistan lack roads, which means people aren't able to migrate and integrate with other parts of that nation. This has left certain villages isolated in various ways, especially in their languages.
"There are people in villages that don't speak the same language because they don't move around," Qadir said.
He's also passionate about climate change.
Qadir used to visit his mother every year in late December because it was the best weather for Pakistan. Clear blue skies, no humidity and midday it was always around 70 degrees.
"Now, if you go at that time you're not sure if you're going to get there [to the airport] because there is so much fog," Qadir said.
The fog was so thick when Qadir would visit that sometimes he didn't know when he'd be able to return to the U.S. It was also unsafe to travel on the roads in Pakistan. He ended up changing the time of year he traveled to visit his family.
"Good education, physical and emotional health, and hard work are the core ingredients of success and happiness," Qadir wrote on his website. "Diversity is a key strength for the fabric of community."
"Look at the track record of what the person has been doing," Qadir said, when asked by The AANews what he'd say if he had only a few minutes to talk to a potential voter. "You cannot just sit home, you have to go vote. If you do not vote, you are going to end up electing a person who you did not vote for. And you'll be sorry."
Qadir also said to look at issues and break barriers.
"Education, health, mental health, climate change, these are not Republican or Democrat issues—these are our issues."