WASHINGTON, D.C. – The Institute for Social Policy and Understanding published its fourth annual report last week, entitled "American Muslim Poll 2019: Predicting and Preventing Islamophobia."
The ISPU surveyed American Muslims, Jews, Catholics and Protestants, including White evangelicals, and non-affiliated participants, to examine their views on politics, religion, sexual and religious violence, minorities and other faith groups.
This is the second year that the institute has partnered with Georgetown University's The Bridge Initiative to track what it calls the National American Islamophobia Index. The index is a measure of how much the public endorses anti-Muslim tropes.
The report includes findings on issues relating to civic engagement, faith and community.
Last year's study examined the impact of Islamophobia on society and found that higher levels of anti-Muslim sentiment were linked to a greater acceptance of violence against civilians, authoritarian policies and anti-Muslim discrimination. According to the report, this year the institute "sought to explore the drivers of Islamophobia."
Also new this year is a set of data-driven recommendations for those individuals and organizations working to elevate American Muslim civic engagement and for those combating Islamophobia.
ISPU researchers included five indicators of stereotypes and tropes associated with Islamophobia in their questionnaire to construct its Islamophobia index.
"These five questions are a measure of the level of endorsement the public has for anti-Muslim tropes that are associated with public support for discrimination against Muslims," Dalia Mogahed, co-author and director of research at ISPU, said. "These specific perceptions are important because they are linked to public support for bad policies.
"Previously, we've focused on subjects like how Muslims fared after the 2016 elections, compared to other faith communities. We looked at civic engagement [and] issues within the Muslim community like intra-Muslim racism, as well as racism that people experience from the broader community."
Mogahed is former executive director of the Gallup Center for Muslim Studies, where she led the analysis of surveys of Muslim communities worldwide.
The five variables were chosen based on previous research that links these perceptions with greater tolerance for anti-Muslim policies.
"This previous research found that when someone endorses these tropes, they are far more likely to support the mosque surveillance, racial profiling and greater scrutiny of Muslims at airports, the so-called Muslim ban and even taking away voting rights from Americans who are Muslims," Mogahed said.
Islamophobia:
The survey asked participants to indicate how much they agree or disagree with the following statements:
Most Muslims living in the United States are more prone to violence than others.

Most Muslims living in the United States discriminate against women.

Most Muslims living in the United States are hostile to the United States.

Most Muslims living in the United States are less civilized than other people.

Most Muslims living in the United States are partially responsible for acts of violence carried out by other Muslims.
Answers to these questions were used to create a single metric that is easy to understand, compare and track over time.
The report is clear that these five measures are not meant to cover the totality of public Islamophobia, which can and does include many other false beliefs about Muslims.
Similarly, it does not measure the degree to which Islamophobia is institutionalized by the state and is present in legislation, budgetary decisions and law enforcement practices at local, state and federal levels.
The study indicates that the index had inched up from 24 on a scale of 0-100 in 2018 to 28 in 2019.
Among faith groups, Jews score the lowest on the Islamophobia Index (18) except for Muslims (14). White evangelicals score the highest on the Islamophobia Index (35). Catholics score 27, Protestants score 29 and the non-affiliated score 22.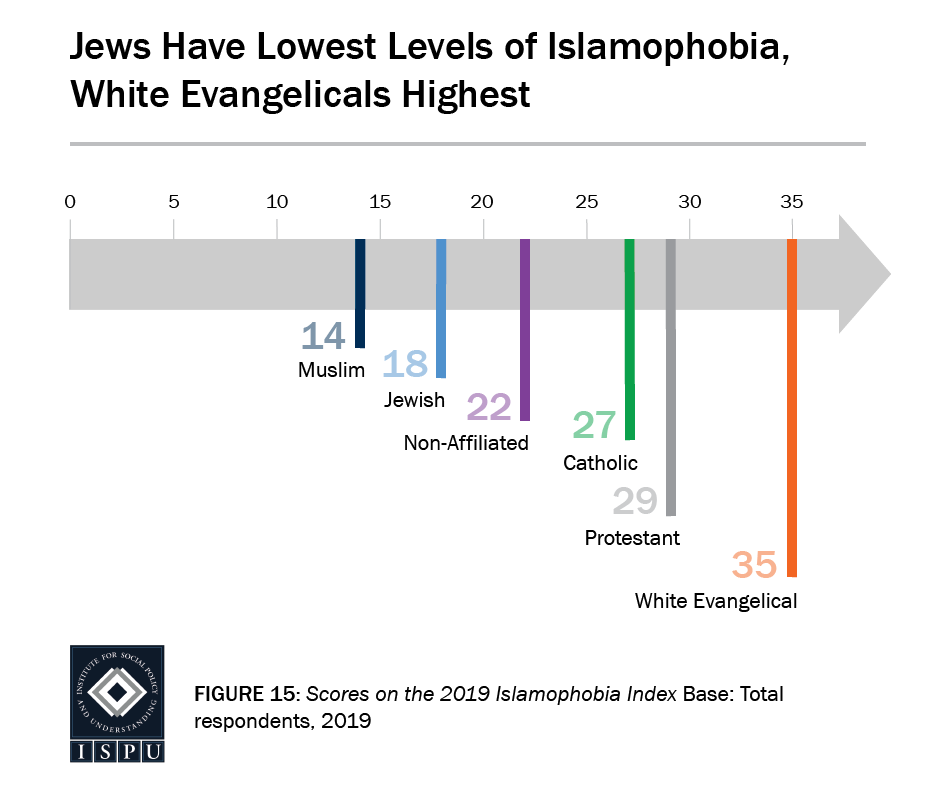 53 percent of Jews report having positive views of Muslims with 13 percent reporting negative views. Hispanic Americans are five times as likely to hold favorable opinions of Muslims as they are to have negative attitudes (51 percent vs. 10 percent).
White Americans are almost as likely to hold favorable as unfavorable opinions (33 percent vs. 26 percent), whereas 40 percent have no opinion. Black Americans are seven times as likely to hold positive opinions (35 percent) as negative views (5 percent) of Muslims, but the majority report having no opinion (51 percent).
The study found that certain factors were associated with lower Islamophobia scores in the surveyed population. These included knowing or being close with Muslims, having favorable views of other minorities, Democratic leanings and knowledge of Islam.
It also found that Hispanic Americans are more likely than White Americans to know a Muslim personally and have the lowest levels of Islamophobia, scoring 23 on the Islamophobia Index.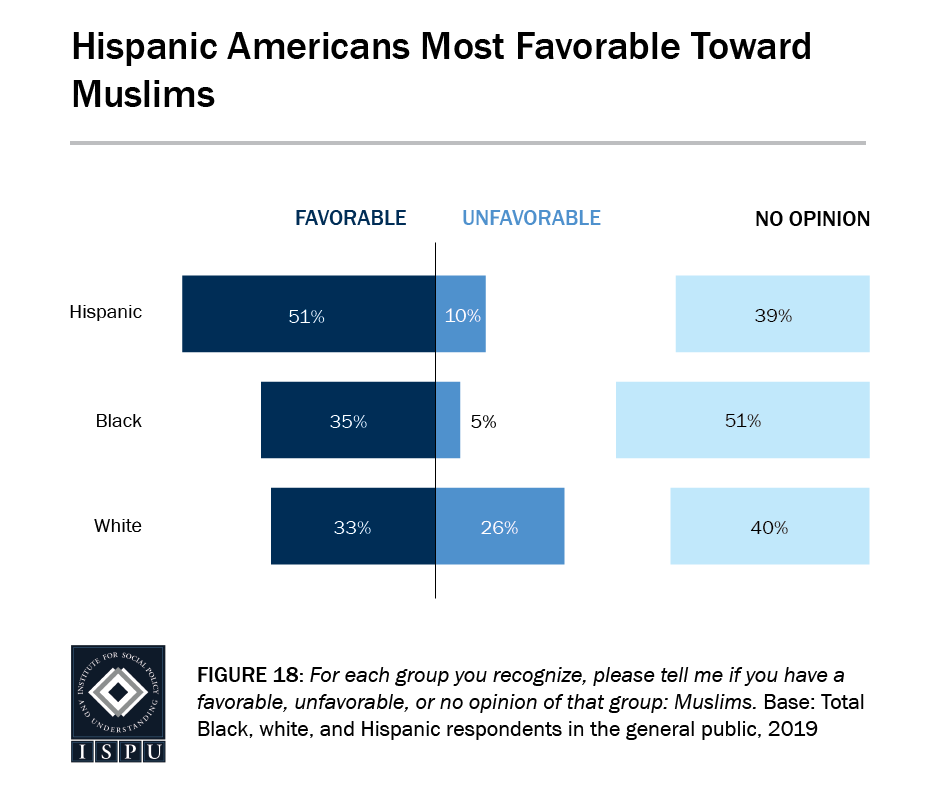 Three in four Jews know a Muslim and about half of the general public knows a Muslim, but only about one in three White evangelicals know an American who is Muslim.
In intergroup perceptions, the study found that Jews and Muslims are similar in their opinions of each other, and that Muslims are more favorable toward White evangelicals than White evangelicals are to Muslims.
The largest gap in mutual positive perception was found between Jews and evangelicals. White evangelicals overwhelmingly have favorable opinions of Jews (75 percent) while none express unfavorable opinions. Conversely, just a quarter (25 percent) of Jews return this positive sentiment, and one-third (33 percent) hold unfavorable opinions of White evangelicals.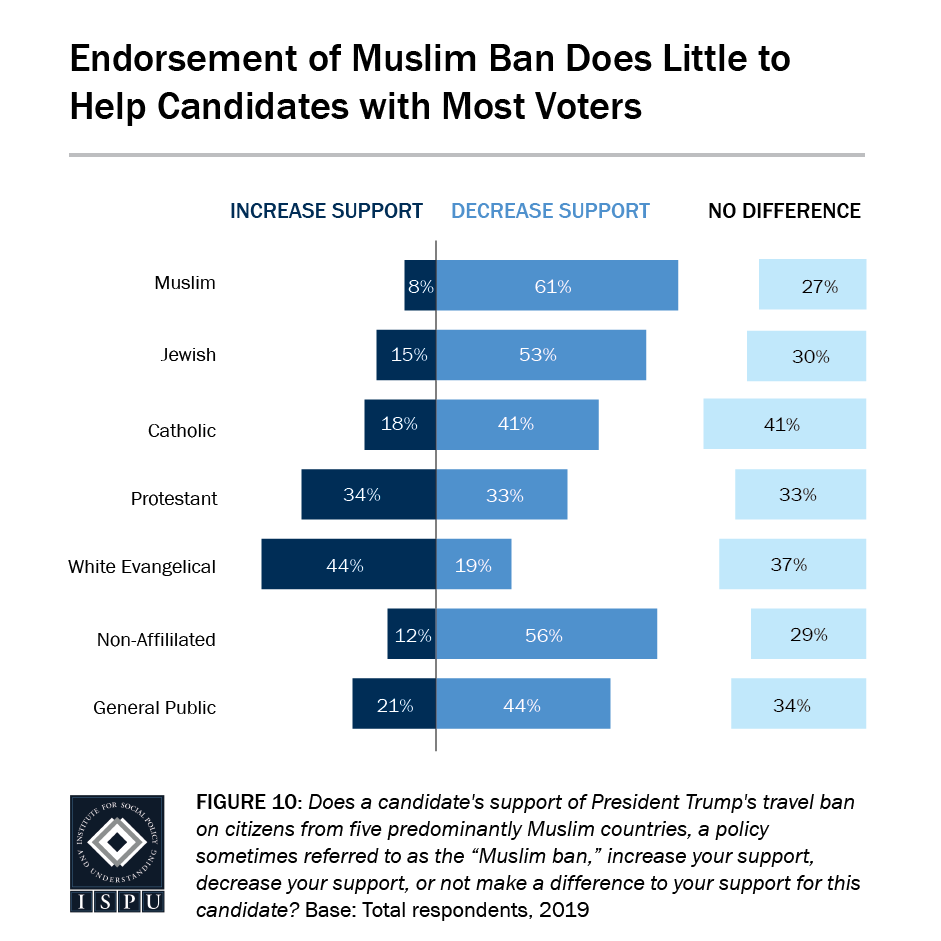 Support for the Muslim ban (stemming from President Trump's 2017 executive order) does little for the success of political candidates. In fact, 61 percent of Muslims, 53 percent of Jews and 56 percent of non-affiliated Americans reported that a candidate's endorsement of the Muslim Ban would decrease their support for that individual.
Civic Engagement:
"Since 2016, we've been measuring the percentage of Muslims who say they're registered to vote and the number has been steadily increasing," Mogahed said. "The general trajectory is on the upswing. Tracking that can help groups know if they're strategies for increasing Muslim civic engagement are working."
Though growing, Muslim voter registration and engagement still lags behind other groups, the study found. The lag is most greatly seen in young adults. Voter engagement numbers also suffer from inconsistencies in the number of voters that express their intention to vote (83 percent) but appear at the polls in fewer numbers (59 percent).
The ISPU noted that higher income brackets, older age and weekly mosque attendance were good predictors of midterm voter participation, as was engagement with local politics.
Only 16 percent of American Muslims approve of the job Donald Trump is doing as president, the lowest of all groups surveyed. Despite this lower opinion, 33 percent of Muslims reported optimism about the future trajectory of the county.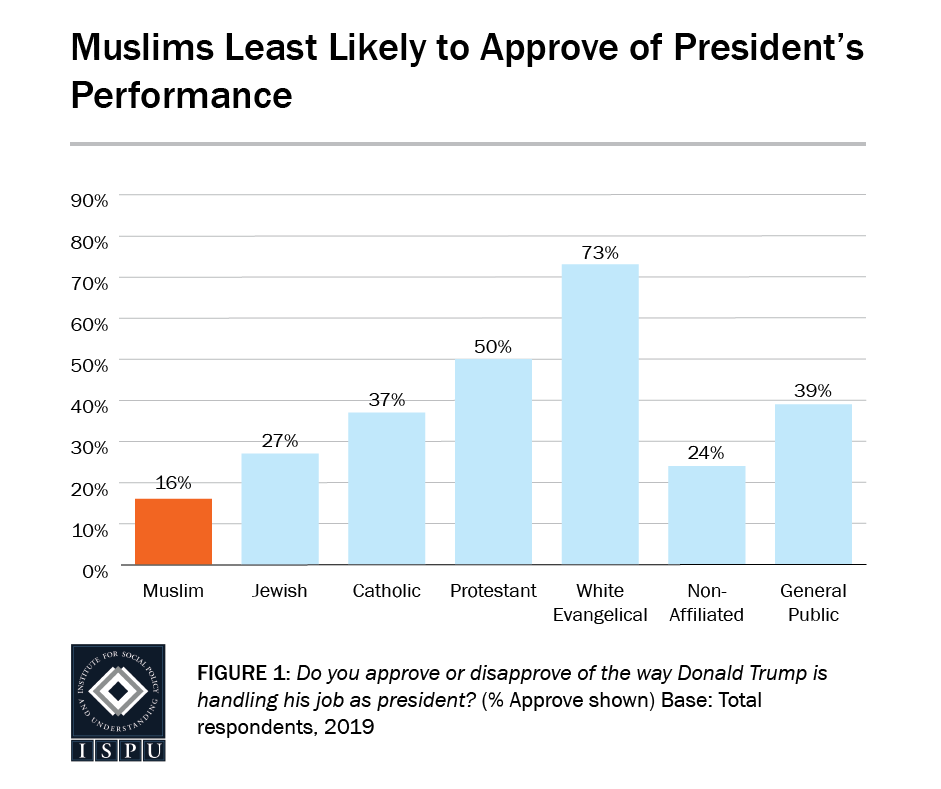 Muslims are likely to vote Democratic, a trend similar to other minority groups surveyed.
"While it is too early to use such a study to deliver concrete implications for the upcoming election, it shows that groups focused on Muslim empowerment have to focus on decreasing this lag in participation intensely," Mogahed said.
"Muslims occupy strategic places in states like Florida, Ohio or Michigan, and are able to swing the vote," she added. "Increasing engagement is an area of work that requires a lot of investment right now."
Faith and Community:
The poll also showed that Muslims are more likely to express religious devotion in private. Fear of discrimination and backlash may hinder Muslims from displaying religious devotion in public.
Muslims continue to report higher frequencies of discrimination (62 percent) than other groups. 41 percent of Muslim women reported gender discrimination from their own community. However, the misogyny they experience from the general public is still greater, at 52 percent.
While all faith groups are likely to report unwanted sexual advances from faith leaders, Muslims were most likely to report such incidences to members of their community.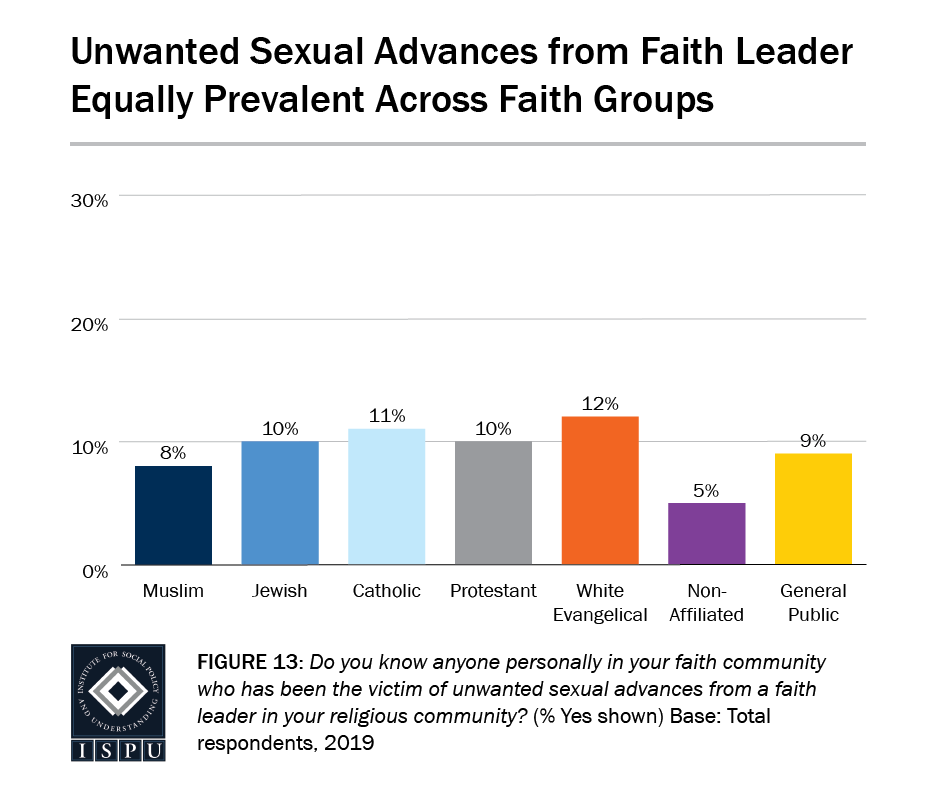 Recommendations:
The report recommends several strategies to increase Muslim civic engagement and combat Islamophobia.
It suggests that increased local civic engagement is a driver for increasing political participation at the state and federal level. Utilizing already-present organizing structures such as houses of worship can aid mobilization efforts considerably.
Young and economically disadvantaged Muslim Americans can likely sway the percentage of Muslim civic engagement as these groups make up for a large percentage of the Muslim population.
It postulates that Jews and Hispanic Americans can be "natural allies" in these efforts and that building coalitions with other groups (Black Americans, Jews and the LGBTQ community) can be a useful strategy to combat racism and discrimination.
Since knowing something about Islam and having Muslim friends can be good predictors of positive opinions about Muslims, the study strongly recommends "demystifying Islam" and creating opportunities for face-to-face human interaction with people of different religious and cultural backgrounds.
To see the full report, visit www.ispu.org/poll