DEARBORN — In a special primary election propelled by absentee voting on the west side of Dearborn, Jeff Pepper beat out Alabas Farhat (3,590 to 2,778) to be the Democratic candidate for state representative for the 15th House District.
Pepper, a local attorney, will now face Republican Ginger Shearer, formerly known as Virginia Polk, who received 1,201 votes, in the May 3 special general election. The winner of that election will fill out Mayor Abdullah Hammoud's vacated seat until the end of this year.
Shearer received 15 percent of the vote in the heavily Democratic-leaning district.
The special election saw a mere 11.75 percent voter turnout, a measure of total votes cast compared to how many people were registered to vote. A total of 7,895 votes were cast in an election that had 67,170 registered voters, The 15th District covers all but three eastern precincts in Dearborn.
Election Day started out slow with precincts numbers for the morning showing very low turnout, with some 425 to 450 votes cast. By 6 p.m., only about some 2,300 in-person votes were cast in Dearborn precincts overall.
End of day in-person voting totals were a mere 2,917, according to unofficial results from Wayne County.
Absentee voting was the name of the game in the special election. The Clerk's Office sent out just under 6,200 absentee ballots for the election, most going to the western parts of the city, as is typical for most elections, City Clerk George Darany said. About 4,500 of those were returned as of Monday, while more were dropped off at the Dearborn Administrative Building drop box on Tuesday, totaling 4,978 votes.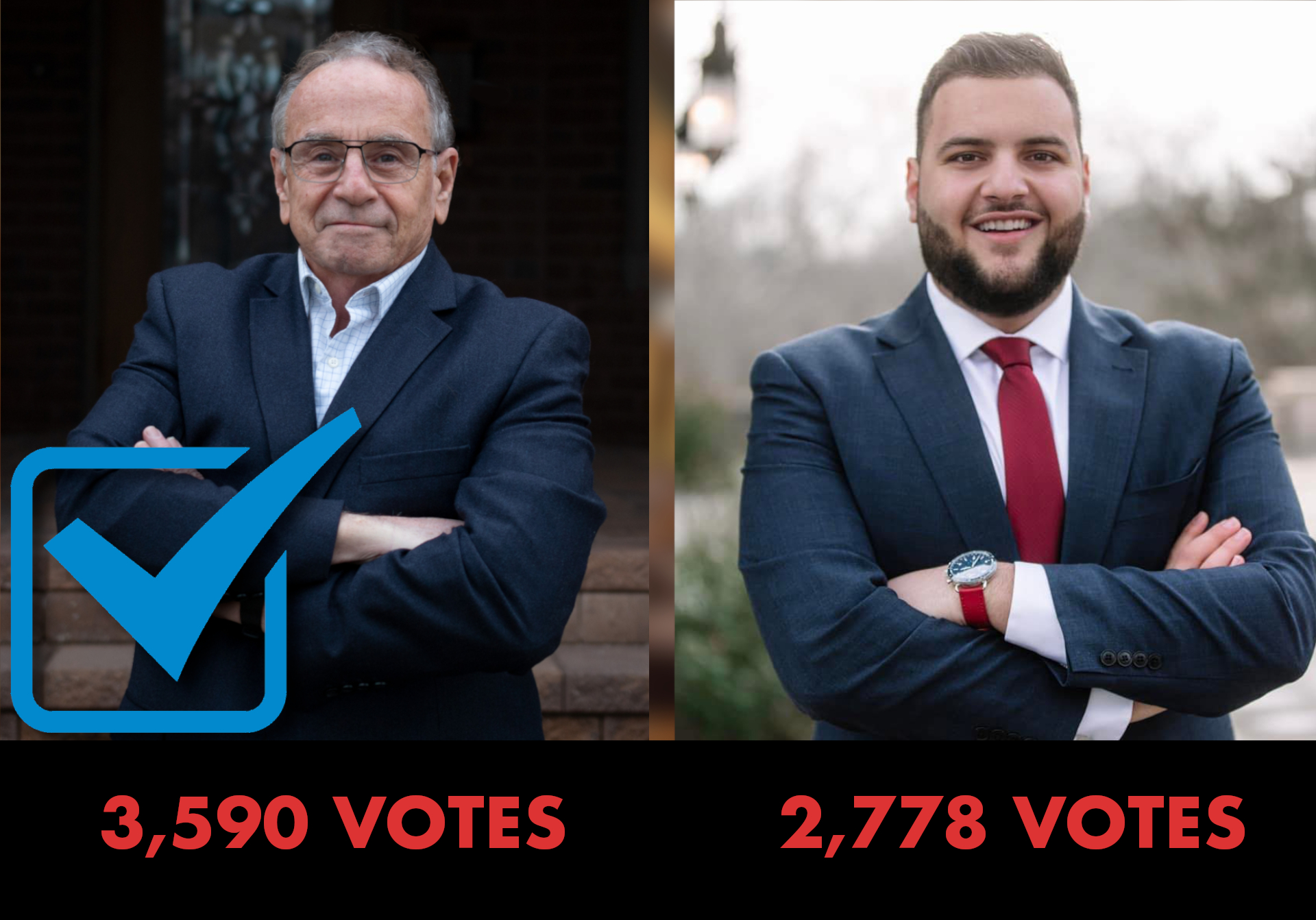 By late evening, precincts continued to see similarly low voter turnout. Just before 6 p.m., most precincts showed double digits numbers, with one precinct on the west side reporting 106 votes.
The local community was urged to participate in electing a new state representative for the 15th House District, after Hammoud vacated the seat following his mayoral victory last November.
To fill the vacancy, Governor Whitmer called for a special primary election on Tuesday, March 1 and a general election on Tuesday, May 3 to complete Hammoud's term.
Low overall turnout, absentee voting high in the west end
The special nature of the election, and the shorter term, may have affected the overall interest in foot traffic, coupled with shorter campaign times. But a recurring east-west voting bloc divide between more Arab populated precincts and older, Whiter neighborhoods can certainly be seen in the general overview of precinct results.
Though both Democratic candidates fared well in in-person vote counts, absentee votes in western precincts, which are recognized by local analysts as being Whiter, tipped the scales towards Pepper.
Pepper received close to 50 percent of the absentee votes, most coming from western precinct, compared to 25 percent of overall absentee votes for Farhat.
Farhat beat out Pepper by some 400 in-person votes.
But the election results standing as a testament to a divide between those parts of the city may be too simple of a conclusion to draw, said political consultant and data analyst Hussein Dabajeh. What's more important is voter turnout overall. Voter turnout in precincts in central and western Dearborn were on average higher than eastern and southern precincts.
"When you look at overall voter turnout, the west end and central Dearborn, we see a 14 to 16 percent voter turnout, Southend saw only a five to six percent voter turnout," Dabajeh said. "In order for Alabas to have fared better, the east end would have needed about 2,500 people to come out and vote on Election Day. Only 900 people voted in east end precincts, minus central Dearborn, Southend and the Henry Ford Village area."
With the lack of census data (the U.S. Census Bureau categorizes Arab Americans as White), Debajeh and others have taken on the painstaking task of sifting through voter registration data to flag Arabs by names, providing the community a more accurate view of where the Arab population is concentrated in the city.
Dabajeh recommends local endorsement and get-out-the-vote organizations concentrate on helping get people to the polls on Election Day as well as educating the community on the power of voting early by mail and at the drop box.
Higher voter turnouts in major elections, like the one that saw a historic victory for Mayor Hammoud last November, certainly display the political power of Arab American political engagement.
Election Day in Dearborn, Tuesday, March 1, 2022. All photos: Imad Mohamad/The Arab American News
Both Farhat and Pepper had posted positive post-election messages.
"I am beyond grateful for each and every person who helped us on this path — friends, family, neighbors, supporters," Farhat said in a social media message after the election. "I truly am floored by the love you have shown me these past 30 days and throughout this process. 
"When I decided to run for office, I knew it would be a difficult battle, but I never once imagined that we would receive the level of support and commitment you all have extended me. So from the bottom of my heart, thank you; thank you for believing in me and our vision to create a brighter future for this district."
Farhat also thanked Pepper, while Pepper praised the young candidate's talents.
The special election is not to be confused with the upcoming August/November election cycle, which will decide who represents the new Commission-drawn districts for two years, beginning next January.
Both Farhat and Pepper have expressed interest in that election later this year.
Pepper told The Arab American News that following his victory he received calls and texts from local officials, including Hammoud, Republican House Speaker Jason Wentworth and neighboring Democratic State Rep. Abe Aiyash, who represents Hamtramck and parts of Detroit.
"They reached out to offer whatever they can to make the transition easier," Pepper said. "I'm feeling very warmly greeted by people who know the ropes in Lansing and are eager to help me figure them out."
"The issue that's going to be compelling everyone's attention is the budget, which may or may not be completed before the summer recess at the end of June, but Hammoud has asked to sit down after the May election in earnest and figure out what I can do for the district and has offered help in that process."
Infrastructure funds are a big ticket item for the district, which continues to see deteriorating roads and bridges, and worsening sewage and flooding problems, funds that a state representative can help direct to needed areas. Combined with those are the persistent environmental issues facing the south and eastern parts of the city in particular.
The area that the 15th House District covers is now slated to fall under entirely new district maps, finalized by the bipartisan Michigan Independent Citizens Redistricting Commission (MICRC) in late December. The Commission finalized maps that were supposed to become law on Dec. 31, though its decisions face challenges.
The new maps will mean three districts will cover the Dearborn area, west, central and east. Those districts will envelope surrounding, non-Dearborn and non-Arab American neighborhoods. Those maps, and Michigan Senate and Michigan Congressional maps, can be viewed at michigan.gov/micrc/mapping-process/final-maps