DEARBORN HEIGHTS — It looked to be a close race between Mayor Dan Paletko and City Councilwoman Lisa Hicks-Clayton in Tuesday's election, but once the absentee votes were counted, Paletko won by 1,143 votes.
Paletko won with 4,467 votes, which was 55.83 percent of the total votes for mayor, and Hicks-Clayton received a total of 3,504 votes, which was 42.10 percent of the total votes.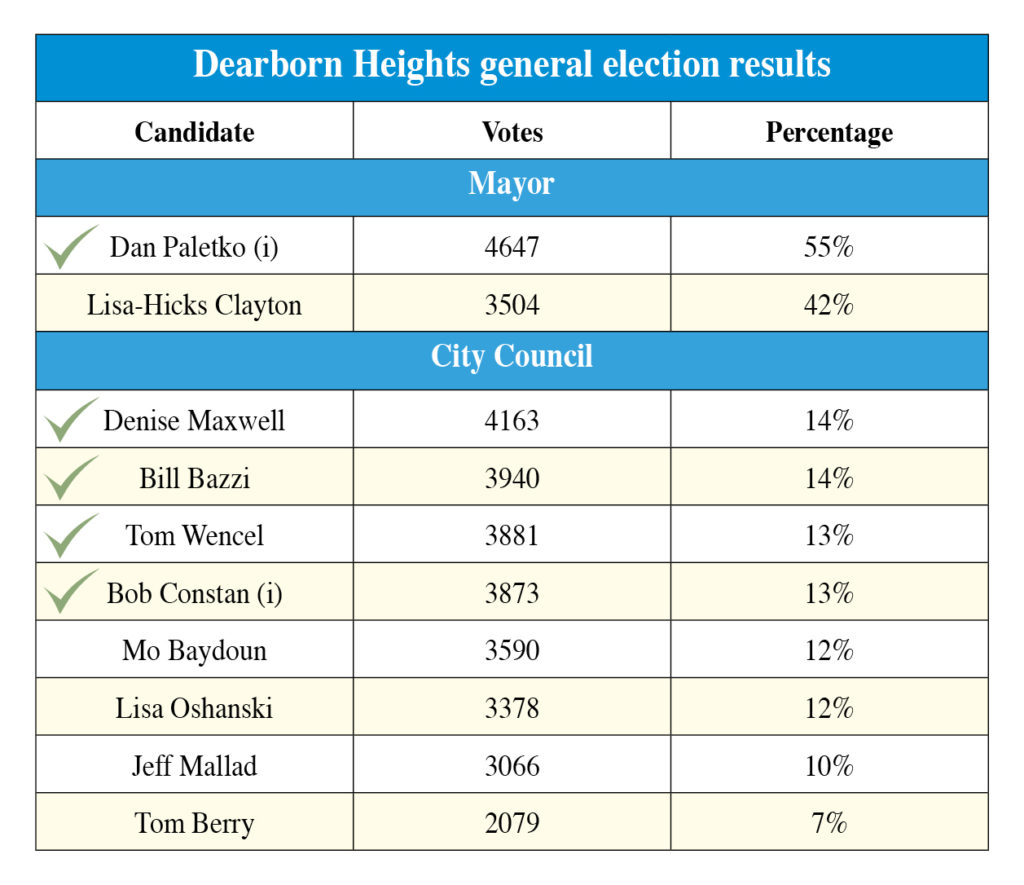 The winners of the four seats for City Council are, starting with the highest vote count, Denise Malinowski Maxwell, with 4,163 votes (14.86 percent); Bill Bazzi, with 3,940 votes (14.07 percent); Tom Wencel, with 3,881 votes (13.86 percent) and incumbent Councilman Bob Constan, with 3,873 votes (13.83 percent).
The other candidates for City Council were Mo Baydoun, who received 3,590 votes (12.82 percent); Lisa Oshanski, 3,378 votes (12.06 percent); Jeff Mallad, 3,066 votes (10.95 percent) and incumbent Councilman Tom Berry, 2,079 votes (7.42 percent). Berry wasn't running, however. But he'd announced his decision after the deadline to withdraw from the primary election and enough people voted for him in that election that he was also on the November ballot.
City Clerk Walter J. Prusiewicz ran unopposed and received 98.48 percent of the total votes for the position.
Dearborn City Treasurer John J. Riley also had no opposition. He received 98.80 of the total votes for his office.
During the day on Tuesday, The AANews caught up with Paletko.
"I went around the polling places and said 'hi' to the workers and the people that were outside working for candidates," he said. "The reception was excellent. I heard a lot of nice comments, which made me feel really good. It was good to see all the people out voting and participating in a democratic process."
On Thursday, Paletko and Bazzi shared their thoughts with The AANews regarding Tuesday's results.
"I was so appreciative of getting the AAPAC endorsement and all the support that we received," Paletko said. "We are going to do great things together as a community. We are going to grow Dearborn Heights and make it the best place to live, work and play.
In 2013, Paletko won with 4,505 votes or 64.44 percent. Also, there were a total of 38,996 registered voters that  year, but Tuesday's general election had a total of 39,040 registered voters, with only 8,501 casting their votes, putting the turn out at 21.78 percent.
Bazzi, a former Marine, said he was surprised to come in second in the City Council race.
"I was getting a lot of good feedback," he said. "Even at the polls, I was getting people giving me the thumbs up."
Bazzi also said he received many private messages from voters telling him he ran a "clean and respectful campaign."
"It's amazing, I was so humbled and overwhelmed," he said.
He said he received messages from community members, saying his volunteers at the polling stations were very respectful.
Bazzi said he looks forward to serving the residents and spending time one-on-one with the community on issues important to them.
During the day on Tuesday, many groups were at the polling stations to help candidates with their campaigns, especially youth.
Nash Salami, 16, stood outside River Oaks Elementary in support of Hicks-Clayton. He said he plans to vote in every election after he turns 18.
Another group of youth at the elementary, Nadine, Noreen and Norma, stood in support of Baydoun. They enthusiastically greeted voters as they approached the school to encourage a vote for their candidate.
Greg K. was outside Riverside Middle School with signs for Paletko on his truck. He said there were some slow times at the polling station, but generally a steady stream of voters.