DEARBORN — A few months ago, a slew of new names on the Aug. 8 ballot signaled a community was gaining leverage in the local political sphere.
While Arab Americans dominated the polls on Nov. 7, their victories were not among the elected candidates, but in the weight of their vote.
Dearborn's primary elections saw a handful of Arab American candidates run for the first time, as well as a boost in civic engagement among voters and young poll volunteers, many emboldened following President Trump's election and discriminatory policies.
This year brought many firsts in states that held general elections, including a refugee from Liberia elected mayor of Helena Mt., becoming the first Black mayor in that state.
But the majority of officials held on to their seats in Dearborn, where about half of residents are Arab Americans according to the 2010 Census, yet only 8 percent work full-time for the city government.
Mayor
At the city's 32 polling locations, a large number of excited campaign volunteers and political action committees yelled out their preferred candidate's names and accomplishments, and took group photos with rival candidates' volunteers.
Their energy remained steady thorough the day, even though voter turn-out was sluggish in the morning.
At around 11:30 a.m., about 130 votes or less were cast at precincts like McDonald and Oakman Elementary Schools, and St. Alphonsus Church.
Volunteers said the cold weather might have deterred some from showing up and that mainly senior citizens were voting.
But by early afternoon, traffic to the polls picked up and the race was getting closer.
A campaign volunteer for O'Reilly, Abdulnaser Alnajjar, told The AANews that he had volunteered at the Woodworth Middle School location during previous elections, but had "never seen this much turn-out."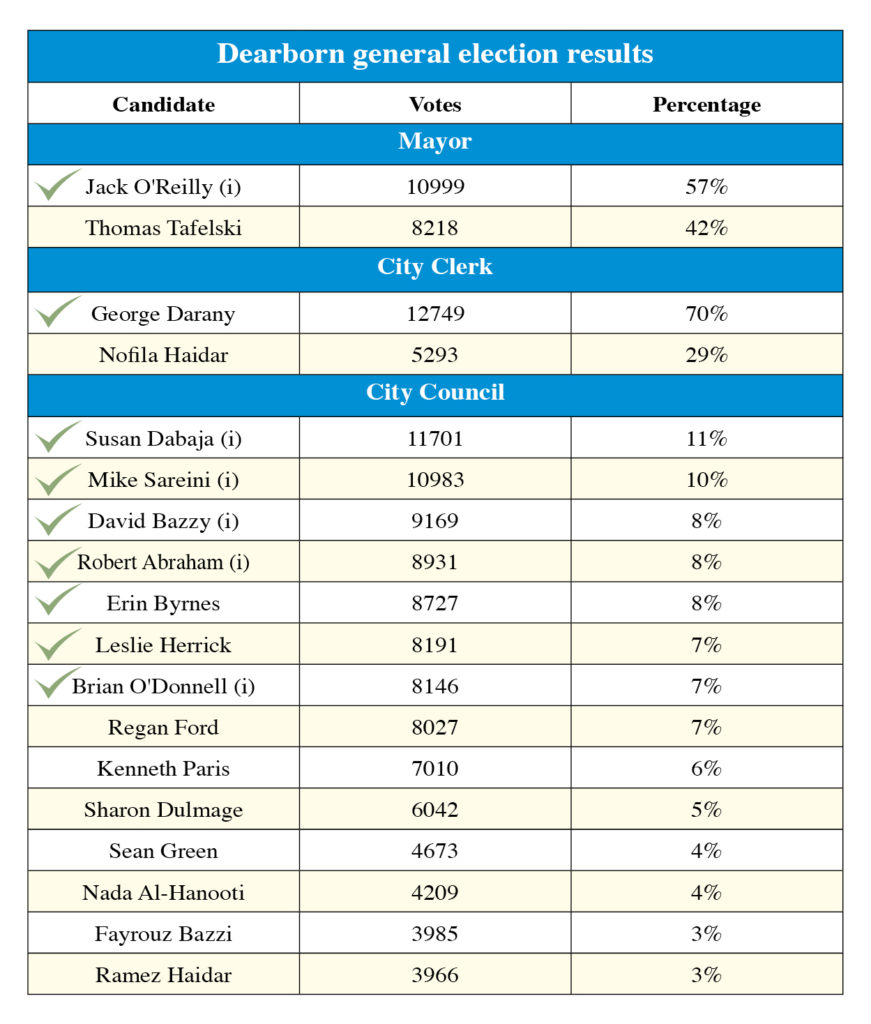 Residents in the east, where the majority are Arab Americans, heavily favored re-electing O'Reilly.
The mayor was the highest vote-getter in all 22 precincts in the east and 16 precincts in the west. Tafelski won in 10 west end precincts, but none in the east.
At Salina Intermediate School, about 80 percent of voters selected the mayor.
Alnajjar, a Yemeni American, said the majority in his community are afraid of their future amid anti-Muslim political rhetoric and Trump's travel ban.
"This is what's driving them today," he said. "People feel that they need to take a stand for their values. They need somebody to back them up."
He added that Yemeni Americans are also heading to the polls seeking relief from factory pollution in the Southend and updates to poor infrastructure and roads.
A Dearborn Public Schools teacher, Adia Abusbeih, told The AANews the municipal election heavily impacts students and faculty.
She said change for the better has begun in the city government, but voted for Tafelski because of his experience sorting through residents' concerns during his tenure on the Council. She added that Tafelski grew up in Dearborn and has advocated for the diverse community.
Yaser Gailan, a Yemeni American resident for nine years, said he came out to vote for the benefit of the Arab American community, regardless of political affiliation.
"I'm voting for the candidate that will represent us," he said. "We want officials who work to protect our interests in all levels of government."
By end of day, about 32 percent of 60,982 registered voters made it to the polls, with about a 24.7 percent turnout in the east end and 38 percent in west end precincts. A large number of absentee ballots were cast in the west end, like the 350 votes at Snow Elementary School.
That's a 2 percent increase from the 2013 general elections, where some of the same municipal positions were up for grabs.
In the late afternoon, precincts saw a slow, but steady rise in voter turn out. By 6 p.m., almost 400 people cast their votes at McDonald Elementary and 500 voted at Salina.
There were few reports of complications, but three poll workers at Salina told The AANews that one of two voting machines malfunctioned at about 10 a.m., forcing them to manually tally votes for about two hours until it was replaced.
They said the poll workers, the City Clerk and two police officers, who took pictures and recorded video, tabulated approximately 160 votes that had to be counted as absentee ballots.
City Council
Most for the 14 candidates for the City Council's seven open positions made the rounds, speaking to voters, and were represented by volunteers.
In order of votes received, five incumbents were re-elected to the Council: Susan Dabaja, Mike Sareini, David Bazzy, Robert Abraham and Brian O'Donnell.
Two new faces, Erin Byrnes and Leslie Herrick, were elected to the Council. Herrick won the most votes at two precincts in the west.
Dabaja and Sareini, both Arab Americans and the top two vote-getters, received wider support in the east end.
Dabaja, who received 11 percent of votes, won in 20 east end precincts and seven in the west. Sareini, who received 10 percent of votes, was the top vote-getter in two east end precincts and three in the west.
At the polls, they told The AANews they reminded voters of their dedication to the community since they were elected four years ago, and expressed their "honor" to serve.
The three other Arab American candidates, Nada Al-Hanooti, Fayrouz Bazzi and Ramez Haidar, received the fewest votes.
Byrnes, the fifth council vote-getter and the newcomer with the most votes, told The AANews she ran to represent "every member of our community and creating visible progress in our neighborhoods and business districts."
She received the most votes among the Council candidates in two west end precincts.
City Clerk
For City Clerk, a position currently held by Lola Isiminger, following the sentencing of former Clerk Kathy Buda for embezzlement, both candidates were Arab Americans. Residents overwhelmingly chose former State Rep. George Darany over Nofila Haidar. Darany earned 12,749 votes (70 percent) and won in all west end precincts and five in the east. Haidar got 29 percent with 5,293 votes, receiving the most votes in 17 east end precincts, but none in the west.
-The AANews intern Dalia Sukari contributed to this report.