HAMTRAMCK — Mayor Karen Majewski won reelection to a fourth term on Tuesday, Nov. 7. She received 1,960 votes, while Mohammed Hassan finished with 1,231.
The overall voter turnout in the city's Nov. 7 general elections was 22 percent.
In the City Council race, Fadel Al-Marsoumi became the second Arab American elected to that body. He received 1,252 votes, according to Electionreporting.com.
Al-Marsoumi was one of six candidates campaigning for three available seats. The other winners were Andrea Karpinski and Ian Perrotta.
Karpinski received 1,410 votes while Perrotta finished with 1,283.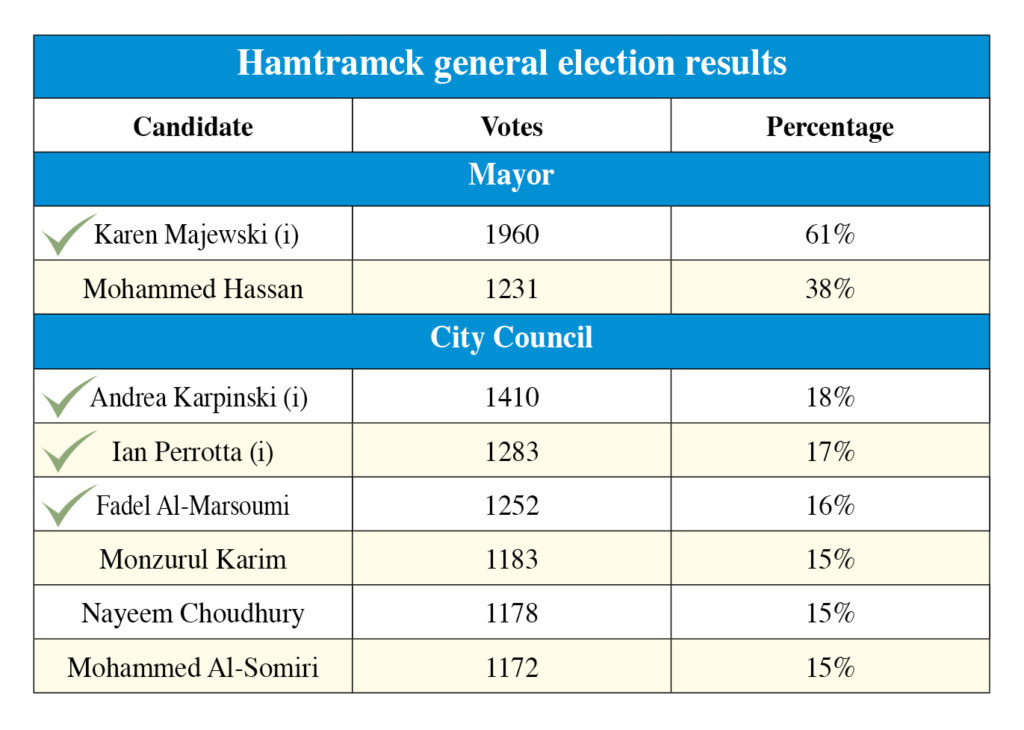 The other candidates were Monzurul Karim, Nayeem Leon Choudhury and Mohammed Al-Somiri, who received 1,183, 1,178 and 1,172 votes, respectively.
The result is askew from what occurred in the primaries when Al-Marsoumi received the least number of votes— 680— to just barely remain in contention for the three open seats.
In the primaries Karpinski, Choudhury, Perrotta, Karim and Al-Somiri finished with 1,072, 952, 947, 769, and 717 votes, respectively.
"We have to have ensure that we have enough cops patrolling the city," Al-Marsoumi told The AANews before the election, when asked what the Council needs to get done, win or lose. "As a council, you are able to agree, as a council you are able to collaborate, as a council you're able to sit down and have comfortable conversations with one another and work with one another. That's a major issue and those (the city's issues) aren't simple tasks to complete, and we need to be able to work with one another before we can do that."
Karpinski spoke with The AANews a few hours before the polls closed and echoed Al-Marsoumi's sentiments. She said the differences among the Council are not cultural or religious, despite what onlookers may suspect. Rather, the differences are simple disagreements in policy. She said that the new Council needs to build on the diversity and work better together.
"We're doing good, they come in big chunks," One volunteer at a voting station told The AANews about how busy the day had been. "We had a line all the way out the door at one point."
As of 3 p.m. 122 people from Precinct 1 had voted, 185 from Precinct 2, 189 from Precinct 3, 240 from Precinct 4, 149 from Precinct 5, 131 from Precinct 6, and 129 from Precinct 7.
By the end of the day, almost 3,200 votes had been cast for mayor.