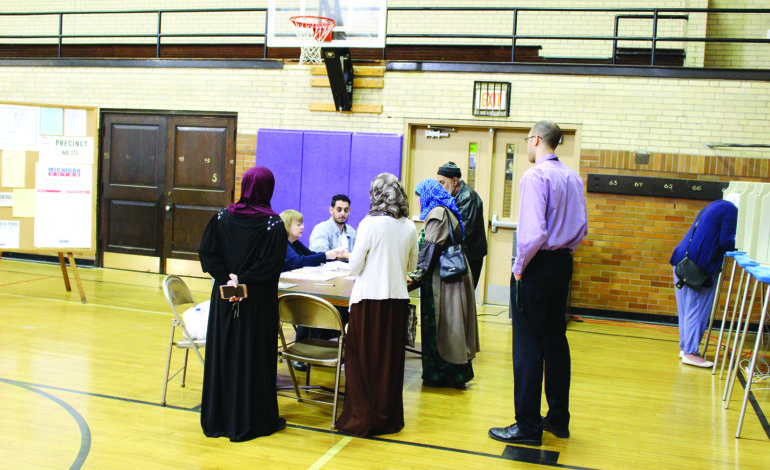 Local Election
April 4th, 2017
0
DEARBORN HEIGHTS ― As the April 25 filing deadline for municipal elections draws near, dozens of candidates have thrown their hats in the ring to compete for available city positions. Dearborn Heights is facing shifting demographics, reflecting that of its neighbor, Dearborn, where nearly half of the 22 candidates for city...
March 24th, 2017
1
DEARBORN — As the national spotlight on the city intensifies, so have the races for local public office. Last year's election campaigns to replace a Dearborn district court judge and state representative developed into an invigorated engagement among residents, especially as Arab Americans threw their hats in the ring. This year,...
March 4th, 2017
0
DETROIT— On Saturday, February 25, Former Detroit Public Health Director Abdul El-Sayed officially announced his candidacy for governor. He made his announcement under Eastern Market Shed No. 2 before supporters, a broad and diverse congregation that included family and friends. El-Sayed, a Democrat, thanked family members and...
February 11th, 2017
0
DEARBORN — Former City Clerk Kathleen Buda has been charged with seven counts of felonies including embezzlement, larceny in a building and misconduct while in office, according to information obtained by The AANews. Buda will be arraigned tomorrow at 1 PM before Judge Mark Somers in the 19th District Court on the above...
January 11th, 2017
0
DEARBORN — Only a few months after the Nov. 8 elections, Gretchen Whitmer, the interim Ingham County prosecutor tasked with fixing a scandal-ridden office, said she is out do the same for Michigan. Whitmer, a Democrat whose tenure in the prosecutor's office ran from July to December, filed her candidacy for governor with...